FUNNY FARM STORIES
by Roy Mackey

...........

A Fly in the Microwave...
fun on the farm when no one's around!!!
and if that wasn't bad enough
now there's...

A Fly in the Microwave 2...
fun on the farm when no one's around!!!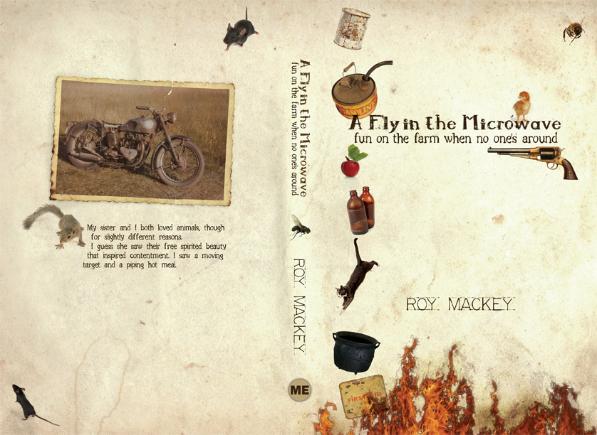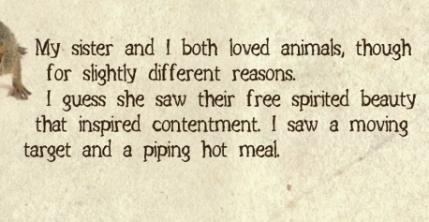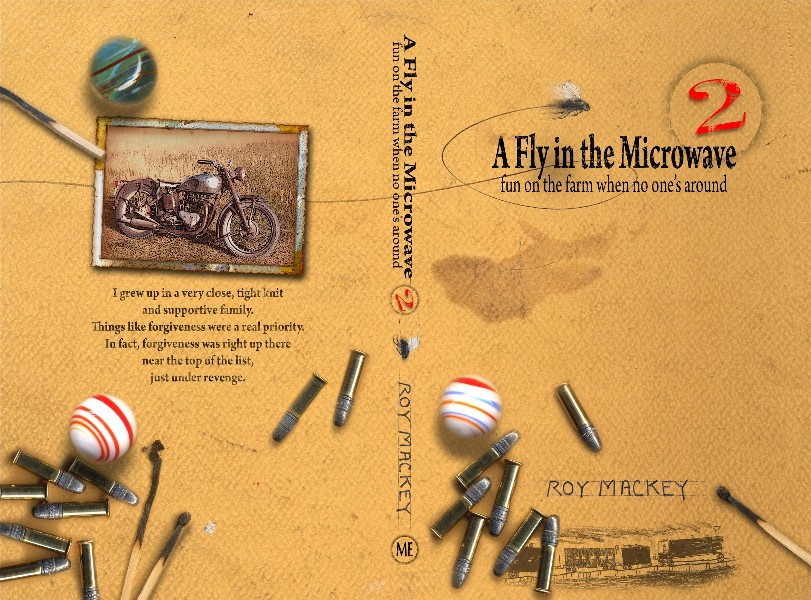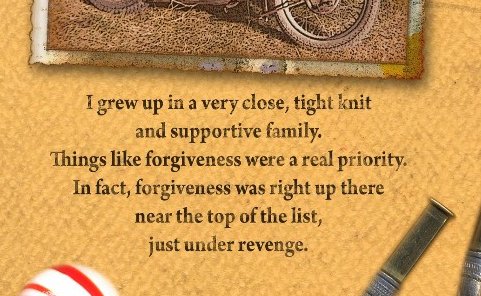 Yes, there is a real art to forgiveness.
It was all about timing which my Dad explained to me clearly.
Volume 2 is finally finished!!
Are you tired of intelligent, well written, politically correct books that make you think too hard? Maybe you just want to kick back and relax to some light and easy reading for a few laughs If so then you may want to consider this book for yourself or someone you know. Who knows you may not find it funny but it could make you feel a whole lot better about your family and childhood. That could be worth the price right there!
This is the long awaited follow up to the first Fly in the Microwave which has been selling so well. If you need a good laugh in today's tough times and would like to grab a signed copy just click one of the links below.

Signed copies are $25. ea.
Free Shipping!!!
to anywhere in Canada or the US
To BUY NOW

JUST CLICK ADD TO CART

Use your
VISA or MasterCard
to
Buy the Hard Copy Now!!
Via the safety of PayPal!
A Fly in the Microwave... 1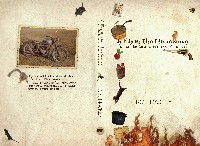 $ 25.00 CAD
108 humorous, semi-fictional short stories in a 230 page soft covered book. A Fly in the Microwave... fun on the farm when no one's around.
Free Shipping to Canada and the USA
A Fly in the Microwave... 2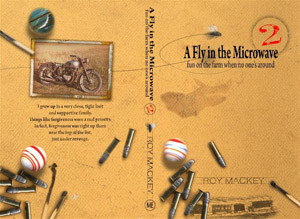 $ 25.00 CAD
98 humorous, semi-fictional short stories in a 230 page soft covered book. A Fly in the Microwave... fun on the farm when no one's around.
Free Shipping to Canada and the USA
Or... if you are an electronicky type of person...
Score the E-Book Version for way cheaper!
Only $9.99 !!!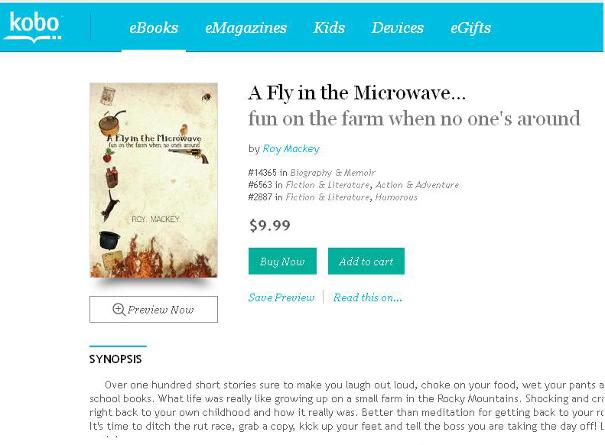 Now finally available on Kobo in e-book format!!!
Volume 1

Only $9.99 can. Great deal for Americans right now with the exchange rates as they are!!!
Click on the image to support a lazy artist!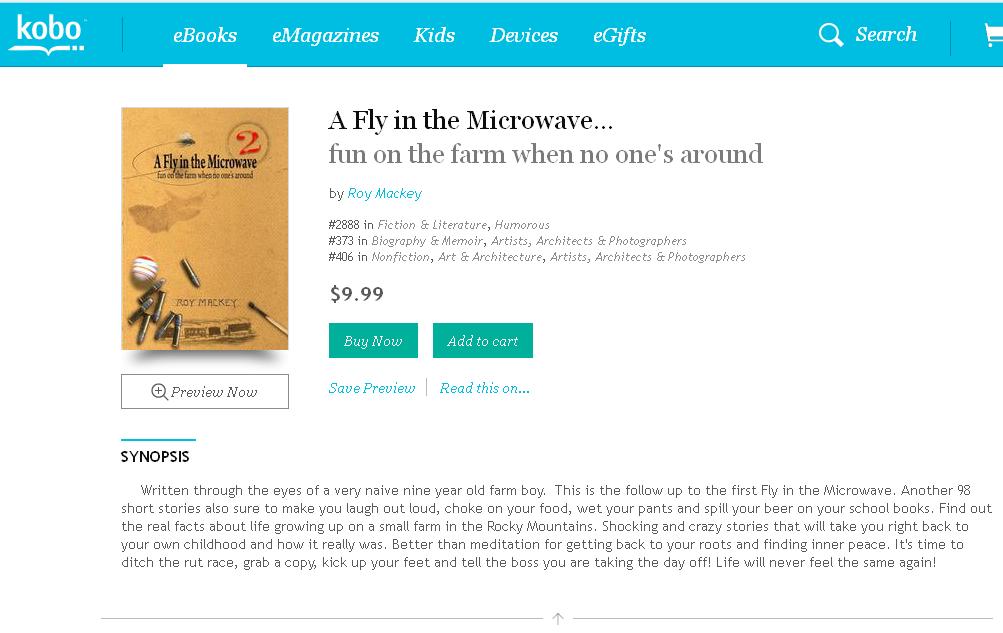 Volume 2
There is also a rumor of a volume three that could be coming soon...??

Or if you want to buy directly off me the pdf version
to view in iBooks on your iPad
or

In epub format to view on your kindle then

click this link below.

This Link Below For Volume 2
(volume 2 coming very soon)

Well as if volume one was not bad enough here are another ninety or so stories about growing up in the Rocky Mountains. Learn about the simple life and what it was like growing up in a normal, very close, tight knit and supportive family.

Read also about what it was like to grow up in a time where what you said is almost what you meant, where friends and family could sometimes even be trusted, when banks used to store not steal your money.

It was a time before shades and ipods. Back when you could see the other persons lying eyes and actually hear their lying words. It was also a time before accountants took over the world and started to erode the passions of mankind in favor of pinching every penny.

Yes a time before profits stood in front of pride. When the things you bought lasted for years, not weeks.

A time before dog food had more minerals than baby food. A time when everyone could afford guns and ammo! Yes the good old days.

Well a year and a half later I have finally got off my backside and finished Volume 2 of my book.

If you are curious to what you are missing or just can't sleep at night you might want to check out the first volume of this book. You may very well regret it but if so at least it will be a regret you can burn! Try that with that property you bought at peak prices just before the big un-real estate crash! Ouch!

Don't let that get you down though a quick read through these books and you will never feel the same about your life again. Sure you may feel a little envious that you never grew up in the same healthy situation that we did. Just the same with a little effort you could maybe get some ideas from it that could be of benefit. Things you could use for your own family if you have one. My Dad always said that it is best to lead through example.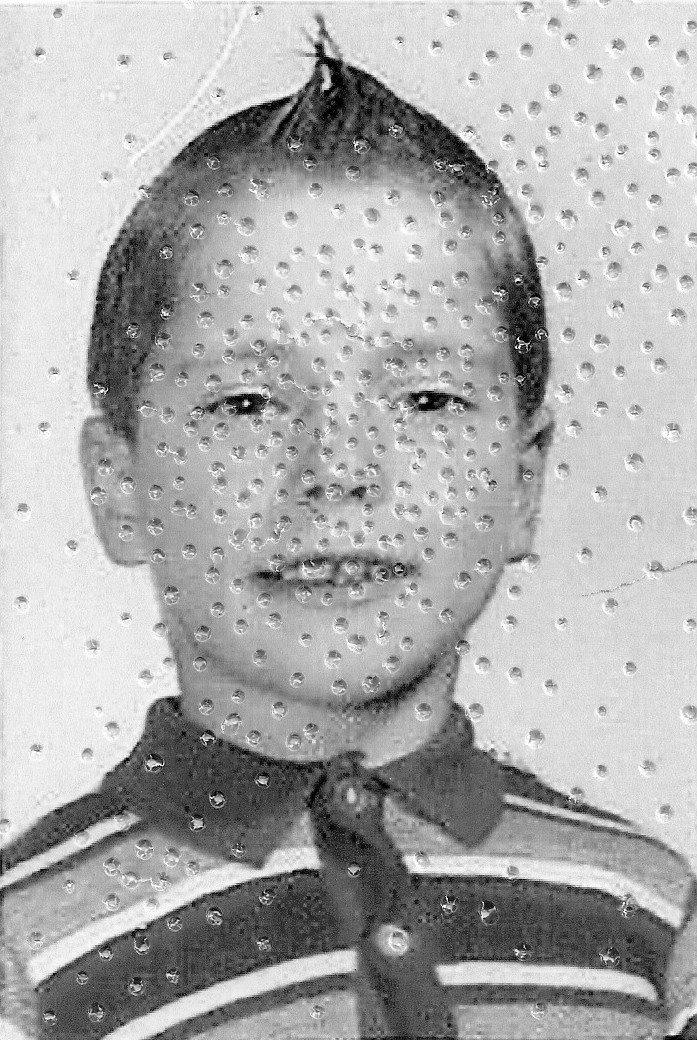 Last time I was back on the farm I looked through all the old family pictures for one of me but strangely these were the only two I could find. Actually this one I found on an old dart board Dad had in the garage. I am sure that made my brother Ivan jealous. It was stuff like this that pretty well proved I was Dad's favorite.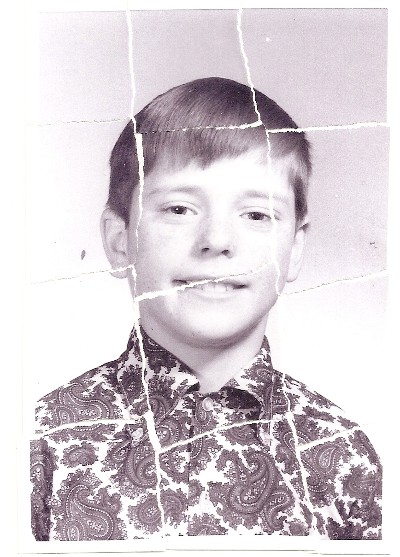 The photo above was at the bottom of an old box of tax records. I guess it accidentally got torn up so they likely put it there until they could fix it sometime. Luckily I was able to fix it. Mom always was speechless at how good I was at fixing things. She was also very independent and got embarrassed whenever I did stuff for her like fixing this photo. It was pretty easy to tell since her face got all red when I showed her. That's just the way our family was. None of us ever took help easily.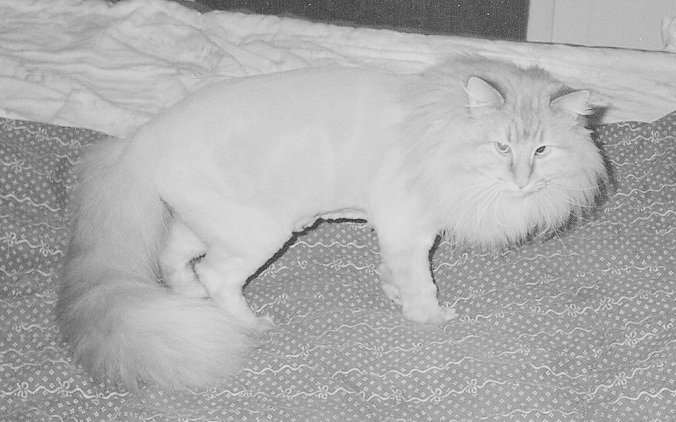 Tiger... our favorite cat from back on the farm. This was before I accidentally cut his tail plumb off. We shaved our long haired cats back then and used the hair to make homemade sleeping bags. Not much different than shearing sheep. Man were they warm as toast!
The two most common comments I receive are:
"I want more copies for my friends"
and
"I laughed so hard I cried"
Even my Dad loves this book!!
He said the only thing that could possibly make it better
is if it was printed on a softer two ply paper!!
ooooooooooooo
or...
If you're not in big a hurry
Buy it Now Direct from Me!!
Just send a check or money order for

$25.00

payable to:
Roy Mackey
#108 - 1701 Powell Street
Vancouver BC V5L 5C9 Canada
I will drop your copy(s) in the mail the same day your payment arrives.
Or if you are in the area feel free to wing by and grab one in person.
Good to phone first though as we step out for food and supplies every so often.
Here are some recent reviews, just in case your

interested… but not sure.
"It's better than two bottles of Nytol!"… anonymous
"Thank God it's biodegradable" … anonymous
"It's amazing what people can get away with these days!" … anonymous.
"It should come with a bottle of Gravol" … anonymous. [I guess this is in case they are going to be traveling while they read it.]
"…uh… very well written… for someone who failed English 10 three times before dropping out of school" … anonymous.
"save your money… it's a lot of cheap wine!" …anonymous. [not sure what saving money on cheap wine has to do with my book?...]
"Made me think of Fahrenheit 451… anonymous [its nice they liked it enough to compare it to some movie!]
Other comments!
My mother said I was a few pages short of a full book. I told her I did have more stories but they would be in the next one... [I guess she did not realize a book can only be so thick]
I also heard this preacher I knew shot his with a silver bullet and sprinkled holy water on it… [I guess this was some kind of religious blessing ritual or something]
One person from a local community service in Invermere wanted to take me to the courts!… I had to decline since I have never played tennis in my life but was glad they liked it just the same… [just another example of the generous spirit people back there in the valley have]
You can see the picture below. My dad made his into a sculpture and sent it to me! I think he picked that artistic trait up from me… what a guy! He was so excited about the book he assured me there was a special place for me after I die where I would never be cold again!! Gee Thanks Dad!! (Dad knew I always hated the cold)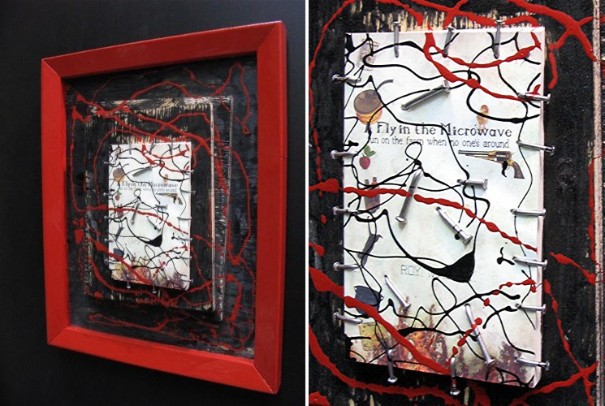 Two photo's of a sculpture Dad made from his copy
Heck, even my brother was amazed… he asked me "how could you have done this!?" Of course I told him "cripes! It was easy, anyone with a computer can write a book these days!"… He was speechless!
Someone also phoned me and said they sent their copy to someone they hated, which I might add is the type of attitude I would like to see more of these days!!! People trying to make friends with their enemies!!
I guess another guy I know liked it so much he stopped reading it at page thirty! He wrote me and saying he wanted to save it for when he is on his death bed. He plans to finish it then so it will help push him over to the other side. Needless to say I was honored and can't wait for him to finish the book!
And these are just some of the reviews

and comments from the people

I PAID to read it!!
Here below are some common comments I've heard from people outside my family and friends:
I laughed so hard I cried… [most common.... though not sure what was so funny??]
Hilarious!… I want copies for my friends! [I am glad he enjoyed it but again not sure what was so funny?... they probably laughed at that stupid TV show that used to be on years ago... The Beverley Hillbillies!]
A very good read…
Hard to put down…
Well worth every penny…
I did not want it to end...
When is the next one coming out...
Scroll back up to buy your copy now!!
Check out this video to see these books in the real